Mont Blanc - Summit Day

The bunkhouse light came on at 2:30 AM, the signal to get up for a continental breakfast (if purchased) and to start climbing. We were climbing by about 3:30. The first goal was to get to the top of 14,100 feet Dôme du Goûter. After about an hour, the Army troops marched past us.

Shortly thereafter, I pulled up with a broken crampon. I had failed to inspect them since the Mt. Assiniboine climb in August and had never had a problem with them in 10 years. Somehow three screws had worked themselves out and were missing. Fortunately, I carried an Allen wrench and some spare screws, three to be exact. I repaired my crampons in about a half an hour and continued on with no further crampon incidents. I thought how lucky I was to be able to repair them. Otherwise, an immediate descent would have been required.

Philippe was also having crampon problems, but of a different sort. His crampon straps were a little too small for his new boots, so he had to tighten them to the point where his feet were unable to warm up because of the constriction. The temperature that morning was around 0 degree F.

After we got to the top of Dôme du Goûter, there was a small downhill section followed by a succession of ridges leading to the summit. We stopped at Refuge Vallot, an emergency bivouac shelter at 14,300 feet. Philippe took off his boots to warm up his feet while I brewed up some hot tea. We spent about an hour at Vallot having breakfast and trying to stay warm.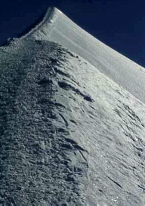 We finally got everything squared away as the sun was coming up and took off again for the summit. We ascended a series of steep ridges and the usual false summits before reaching the final narrow ridge walk to the summit. It was quite spectacular with a beaten path about two feet wide with drop-offs of a couple thousand feet on each side.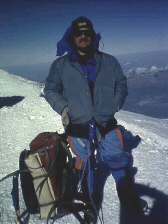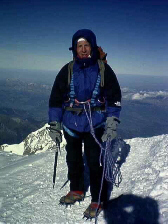 We reached the 15,774 foot summit at about 10:30. The views were incredible with Switzerland to the North and West, Italy to the South, and France to the East. We stopped for a short while, but knew we still had a long day ahead of us.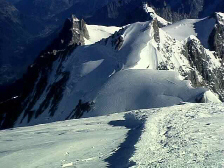 As everyone else turned around at the summit, we continued down the other side. The completion of the traverse required a series of ups and downs as we skirted the tops of two of the minor summits of the Mont Blanc massif, Mont Maudit and Mont Blanc du Tacul.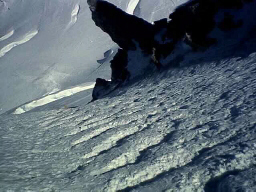 There was one pretty hairy section (the French describe it as "superb") at Col du Mont Maudit that required an ice screw, some slings, and belaying. Otherwise, the rest of the climb was standard glacier climbing.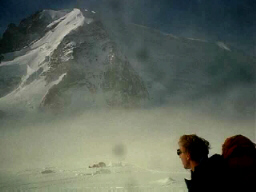 We reached Col du Midi, our planned bivouac site at 11,600 feet, at about 4 PM. We dug in a platform, melted snow (we were very dehydrated), prepared a small dinner, and crashed. We finally got to use the sleeping bags, bivvy bags, and shovel that we hauled all the way up and down the mountain. The orange light of sunset of Mont Blanc du Tacul was spectacular from our bivvy site, and we enjoyed the view of starry skies that night.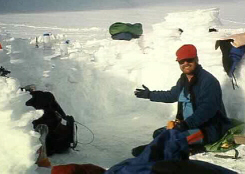 We waited in our bags for the Wednesday morning sun, then got up after the best night of sleep in three days. A final climb of 1000 feet brought us to Aiguille du Midi where we caught a tram ride down to Chamonix.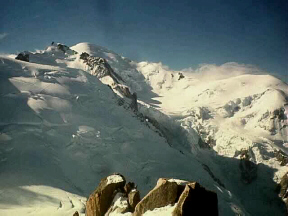 Philippe then hitched a ride to Les Houches to retrieve the car. We then celebrated with a couple beers and a lunch of steak and frites at a sidewalk café. That evening, the rain returned.

Click here to continue with the vacation report....

Or, click here to return to the Way Too High Alpine Society page.