Paris to Chamonix

The drive from Paris to Chamonix is about 600 km and took us about 6 hours. We waited until about 10 o'clock for the Friday morning Paris commuter traffic to clear out, but even at that hour the traffic was incredibly congested.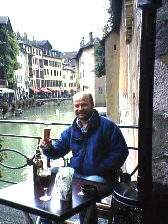 As we neared the Alps, we decided to take a side trip to the beautiful and quaint village of Annecy in the province of Haute-Savoie. Haute-Savoie contains most of the French Alps and is famous for it's cheese fondue dishes, and, as is the case throughout France, has very tasty pastries. The weather in the Alps was rainy.

We set up our base of operations in a chalet that belongs to the family of a college friend of Philippe's. We had a wood stove and full kitchen and bathroom, and comfortable bunks. Who could ask for more? (especially for the price... free!) The chalet, which is outside the village of Les Houches near Chamonix, has an excellent view of Mont Blanc.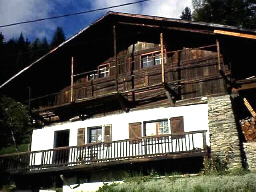 It has been a stormy season in the Alps, a condition that had already contributed to 50 deaths in the Mont Blanc range, and 10 deaths on The Matterhorn. Chamonix is at about 3000 ft. and we could see that the snow level had recently dipped to about 4000 ft. We checked the weather forecast at the Bureau des Guides and were happy to see that a stretch of good weather was forecast.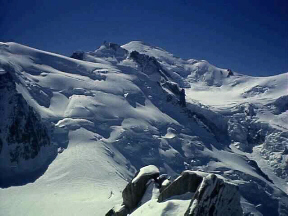 We decided to spend Saturday exploring the area and packing for a Sunday start for the traverse. To get a better view of our descent route, we took the tram up to Aiguille du Midi (Aiguille is pronounced ah-gwee). The tram rises an incredible 9,200 feet to a full service visitors center carved out of a rock pinnacle at an altitude of 12,600 feet. From there, the view of Mont Blanc is awesome and there is easy access to the glacier at Col du Midi. This was to be our return route to Chamonix during the traverse.

Click here to continue...