Mont Blanc -- Refuge Tête Rousse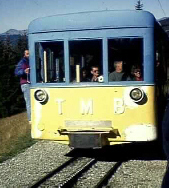 We got up Sunday morning and drove to a tram that ferried passengers from Les Houches to Bellevue, a restaurant and chalet at 5900 feet. This tram is also used for skiing in the winter. Next to Bellevue is a small cog-rail train station. We boarded the train which took us to le Nid d'Aigle at 7780 feet. From there, we began hiking.

Philippe and I were amazed at how small everyone else's packs were. We were carrying heavy packs complete with bivouac gear and food for 3-4 days. It turns out that the other people were doing the standard route and did not need sleeping bags or food since everything was provided at Refuge de l'Aiguille du Goûter.

We were also carrying some hardware such as ice screws, a snow fluke, and a shovel. Of course, we also carried a rope which we made continuous use of above Refuge Aiguille du Goûter. Even though the route was mostly glacier, and had some steep, exposed sections, many of the climbers we saw were unroped.

Anyway, a little above le Nid d'Aigle, at about 8800 feet, I saw a family of chamois. These are antelope-like animals with spiked horns. Apparently, chamois are fairly rare and I was lucky to see them.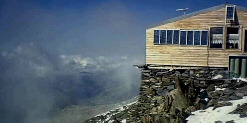 After three hours of hiking up the ridge leading up Aiguille du Goûter, I arrived at a point near Refuge de Tête Rousse at 10,400 feet where Philippe had been waiting for about 20 minutes. With the heavy pack and high altitude, and just plain weeniness, I was dragging butt. Our original plan was to push it to Refuge Aiguille du Goûter that day, then get up in the wee hours for a push to the summit. Since the forecast was for good weather at least through Tuesday, I convinced Philippe that we should spend a night at Refuge Tête Rousse for rest and acclimatization.

At Tête Rousse, we made friends with a local girl named Françoise. Her friends (or so she thought) were moving fast up to Refuge Aiguille du Goûter, leaving her behind, so she decided to stay at Refuge Tête Rousse. We made arrangements to meet her in Chamonix later in the week, which we did three days later.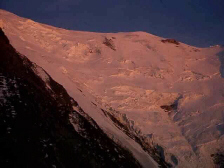 The sleeping arrangements at Refuge Tête Rousse were typical of the many refuges throughout the Alps. The dormitory style bunks were comfortable and blankets were provided (although were had our sleeping bags with us). The cost was a little less than $20, and a hot meal was provided for about $20. From Tête Rousse we had great views of Glacier de Bionnassay and the 13,300 feet Aiguille de Bionnassay. Refuge Tête Rousse is the starting point for a climb of Aiguille de Bionnassay.

Click here to continue…