Kilimanjaro

19,341 Feet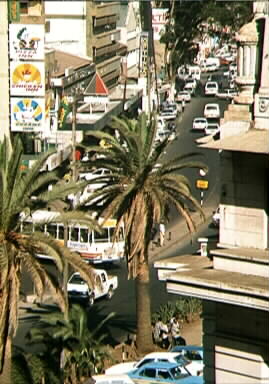 Nairobi
After the Mt. Kenya attempt, we shifted our attentions to Kilimanjaro... Mitch and I, that is. Terry decided that his business concerns back in Seattle were more important than his second ascent of Kilimanjaro, so we dropped him off at the Nairobi airport and he caught an early flight home.
Mitch and I checked into the Ambassadeur Hotel in downtown Nairobi, recommended by the German couple we met at Mackinders Camp on Mt. Kenya. We immediately set about making arrangements to get to Moshi, Tanzania at the base of Kilimanjaro. It was our plan to find a guide service once we got there since guides and porters are required on Kilimanjaro, a regulation most likely designed to help out the local economy.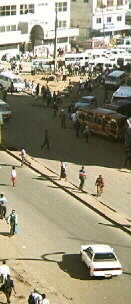 The hotel got us in touch with Devanu Transport, the primary operator of shuttle buses to and from Nairobi, Kenya and Arusha and Moshi, Tanzania. Arusha is a base of many safari operations to areas such as the Serengeti and the Ngorogoro Crater. Moshi is the base for many of the Kilimanjaro outfitters. Within hours of our arrival in Nairobi, we were booked on a shuttle to Moshi leaving the next morning. Due to our limited schedule, it was critical that we waste no time in making the Kilimanjaro climb arrangements.
Once the arrangements for Tanzania were completed, we had a little time to walk around town near the hotel. It turned out that the hotel was only about four blocks form the U.S. Embassy that was bombed about six months earlier, so we checked it out. It was an awesome site. Windows were still blown out within a block of the site, and there was still glass in the street (things don't get cleaned up very quickly in Kenya). The magnitude of the tragedy was very sobering.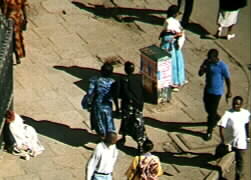 We got up early Sunday morning. The Devanu shuttle service picked us up at the hotel at 7:30 AM, and we were soon on our way to Tanzania. We were able to lighten our loads significantly as we checked all of our technical climbing gear with the hotel.
The drive to Moshi involved a stop at the border for customs and visa inspections and a lunch stop in Arusha. The trip normally takes about five or six hours. We were treated to a pleasant surprise soon after leaving Nairobi... the amount of widlife that could be seen along the road. We saw many gazelle and impala, some zebras, a group of five giraffes, an ostrich, and (I think) a secretary bird. We also saw many red robed Masai tribesman tending their herds of goats and cattle.
Click here to continue with the Kilimanjaro story
Click here to return to the Africa '99 page
Click here to return to my home page