Moshi
The border crossing was fairly routine, although we did have to take all of our baggage off the bus for inspection. Thanks to good planning, all of our paperwork was in order. We arrived in Arusha where the bus stopped for about an hour before continuing on to Moshi.
While we were waiting, we were approached by a couple guys looking to offer Kilimanjaro guide and porter services. Their names were Gladstone and Daniel. After discussing their credentials, quizzing them on their knowledge of the mountain, and discussing price, we came to an agreement. We threw our gear in their car and headed to Moshi.
The deal was $500 each. It included a guide, cook, porters, all food, and park fees for three days on the mountain. It also included two nights in a Moshi hotel. A similar service booked in the U.S. would cost about $3000 each.
It was a rainy afternoon in Moshi. That night, we checked into the Buffalo Hotel.

The next morning, we awoke to clear skies and our first view of Kilimanjaro from the front of the Buffalo Hotel.
Due to our tight schedule, our plan was to climb the Mweka-Barafu route (the most direct route) in 3 or 4 days. Also, the fact that we had gained a considerable level of acclimitization on Mt. Kenya gave us the confidence that we could approach Kilimanjaro in an aggressive fashion.

Originally, we had planned to get going at 8 AM the next morning and hit the Mweka trailhead outside of Moshi, via 4WD vehicle at about 9.

Routes on Kilimanjaro
All of the routes on the mountain are divided into approach routes and climbing routes. Basically, anything below the South Circuit Path which circumnavigates the southern side of the mountain at about 13,000 feet, is an approach route. Anything above is a climbing route. The Barafu route is basically a continuation of the Mweka route.
But late the previous evening, Gladstone informed us that we would leaving at 7 AM in order to drive to the Marango Gate (about an hour each way) to get our permit since there is no official entrance at the Mweka Gate.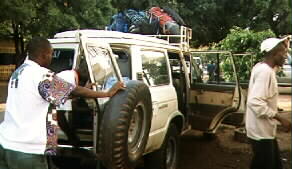 So we loaded our gear in the Land Rover and headed for the mountain. About halfway down the highway, our packs went flying off the Land Rover as the lashing job by our faithful companion, Daniel, failed. Mitch's pack suffered quite a bit of damage and his headlamp required a rebuild. My pack survived fairly well with only a couple of punctures and no damage to the contents. Disaster was averted.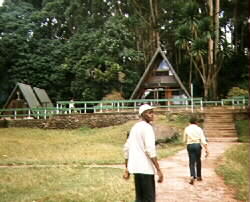 We arrived at the Marango Gate and were greeted with more surprises. The park officials would not give us a permit for the Mweka Route, saying that it was only a descent route because of its steepness. They also would not give us a three day permit, saying that it was not enough time to safely climb the mountain.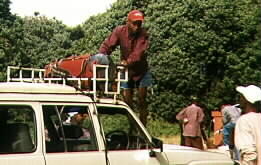 The best they could do for us was to let us climb the normal route in four days, instead of the normal 5 to 7 days, by skipping the normal first night at the Mandara Huts and proceeding directly to the Horombo Huts that day, and foregoing any additional nights for acclimitization. We had no choice, so we forked over another 60 bucks each and were on our way.
Marango Gate to Horombo Huts
The hike up to the Horombo Huts was a stiff 16 miles and 6,000 vertical feet. The trail started out in a rain forest with monkeys climbing in the trees. It followed an old road before turning into a fairly steep trail that brought us to the Mandara Huts in a couple hours. We grabbed a quick bite, then continued on to Horombo, passing from forest into heather.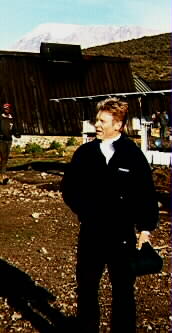 We passed through a zone that appeared to cloud up and receive rain every afternoon. That day was no exception, but the rain (and hail at one point) quickly passed.
This long trek was no problem for Mitch, and I was happy that my weekly Mt. Si training and the acclimitization gained on Mt. Kenya paid off. We arrived in the late afternoon and waited for Gladstone and the porters to arrive.
Then came the next surprise. The porter named Dismuss arrived in camp and informed us (as best he could in his broken English) that Gladstone had a family emergency and would not be joining us. Dismuss was our new guide. We soon realized the value of the Swahili saying, "kahuna matata" (no problems) and adopted it as our official slogan.
The Horombo Huts, at 12,400 feet, were very comfortable and after the long day, we slept well.
Click here to continue with the Kilimanjaro story
Click here to return to the Africa '99 page
Click here to return to my home page