Mount Kenya

17,058 Feet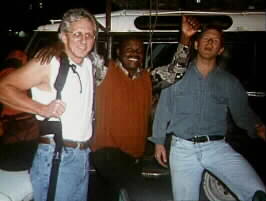 Arrangements had been made months ago via snail-mail with Mr. Carr Rufas of the Mount Kenya Chogoria Porters and Guides Association to provide porters, permits, and transportation for our attempt on Mount Kenya. After a 9 hour flight from Seattle to Amsterdam, followed by an 8 hour flight from Amsterdam to Nairobi, we were hoping that Carr would meet us at the Nairobi airport as planned. He did.
The plane landed at around 10 PM. Carr and a group of three helpers loaded our gear into a Land Rover and we headed into town. That night we stayed in a rather shady Nairobi hotel called the Down Town Hotel.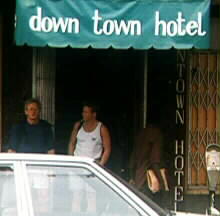 We didn't want to waste much time, so the next morning we took off for Carr's home town of Chogoria at the base of Mount Kenya. The drive to Chogoria took a couple hours as we drove past fields of banana, coffee, and tea.
We were really amazed by the high rural population. We seemed to be out in the country, but the roads were still crowded with pedestrians. It wasn't clear where they were coming from, or where they were going.
When the pavement ended, we were in Chogoria.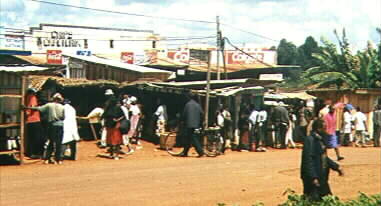 Chogoria
Carr Rufas ran his operation from The Transit Hotel in Chogoria, just outside the western boundary of Mount Kenya National Park. While most climbers approach the mountain from the town of Naro Moru on the eastern boundary of the park, we decided to enter via the more scenic Chogoria route, then exit on the Naro Moru side, completing a traverse of the mountain.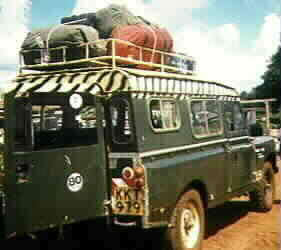 The Chogoria route was also supposed to give us a better opportunity to see wildlife, but we weren't too lucky in that area.
We soon found out why were using a Land Rover. The 15 miles from Chogoria to the Chogoria Gate was extremely rough. We almost got stuck twice, but our driver proved to be an expert on that road.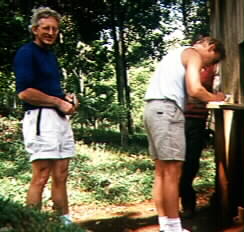 Park registration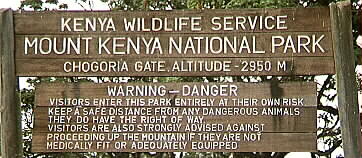 If we had walked the 15 miles and 4300 vertical feet to the Chogoria Gate as some people do instead of taking the Land Rover, there would have been a reasonable chance of seeing elephants and/or buffalo. But such is the price of a tight schedule.
We arrived at the Chogoria gate at an altitude of 9900 feet. We laid out our gear and tried to organize it for our four porters. To our amazement, the porters had no packs or frames to carry the equipment, and Rufas did not seem at all concerned for our porters welfare.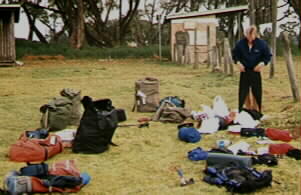 We were traveling pretty heavy and couldn't just let the porters hand-carry the gear, so we fashioned some makeshift shoulder straps with slings and climbing rope. Each day thereafter began by recreating the suspension systems.
That night we pitched our tent and crawled in for our first night in the African wild. In the middle of the night, Terry got up to relieve himself. As he walking back to the tent, he notice a pair of wide set orange eyes staring at him from about three feet off the ground. Needless to say, he was quite startled. One of the park rangers figured it was probably a hyena.
Click here to continue with the Mt. Kenya story
Click here to return to the Africa '99 page