Chogoria Gate to Mintos Hut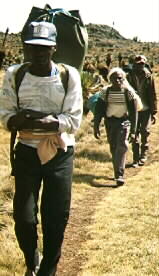 As I studied our itinerary in the weeks before we left for Africa, I knew this day would be tough on me from the acclimitization standpoint. Even though I have been over 20,000 feet on three occasions and have never had any serious altitude problems, a day similar to this on Aconcagua hit me pretty hard. On that day I went from Confluencia at 10,000 feet to Plaza de Mulas at 13,800 feet under hot, dry conditions. On this day we planned to go from the Chogoria Gate at 9,900 feet to the Mintos Hut at 14,100 feet under similar conditions.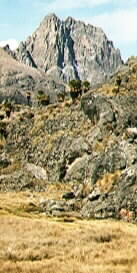 It was a long 9 miles. We followed an old road for a couple miles at a pretty even grade, then started heading up a long ridge along the north side of the Gorges Valley. Terry and Mitch were well ahead of me as I was experiencing a self-fulfilling prophesy. I was having serious doubts about making the summit.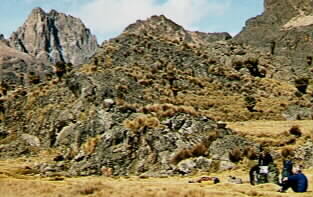 I finally arrived at the Mintos Hut to find Terry and Mitch waiting for me at a nice camping area near a stagnant tarn. The only company we had at this camp was an Austrian couple who had been there for a couple days acclimitizing.
The porters were also feeling the altitude. After waiting for them for a couple hours, Mitch and the guide Daniel went back down the trail and helped carry the gear up to our camp.
Mintos Hut to Austrian Hut

The next day I was feeling much better. By the time I got to the Austrian Hut at 15,800 feet, my spirits were high and I was ready to climb.
The Austrian Hut is perched next to the lateral morraine of the Lewis Glacier. It has three rooms that sleep about eight in each with room for gear and benches for cooking. There were three other groups there. A couple of German guys came off the mountain that afternoon. They were successful, but looked pretty beat up. They crashed for an hour or so, packed up, and headed down to Mackinders Camp. There was an English couple on the face with a guide and were expected to descend the next day.
Then there was this English guy named Dan. He had been there for a couple days, having arrived with a partner who developed altitude problems and had to descend back to Mackinders Camp. Dan was waiting for his friend to recover and come back up for a summit assult, but he too was running on a tight schedule with a Kilimanjaro climb following. Dan had been studying the face and was a great source of information. He went down the next day, but left us his email address at Hewlett Packard UK.
Click here to continue with the Mt. Kenya story
Click here to return to the Africa '99 page