Sloan Rangers
June 1996
On June 22nd & 23rd the Way Too High Alpine Society sent a representative (Bruce Kolpack) to accompany the Vulgarians attempt on Sloan Peak (7835 ft). The Vulgarians were Terry Mataya, Mark Swanson, Ron Husa, Mitch Hungate, Brian, and Chuck.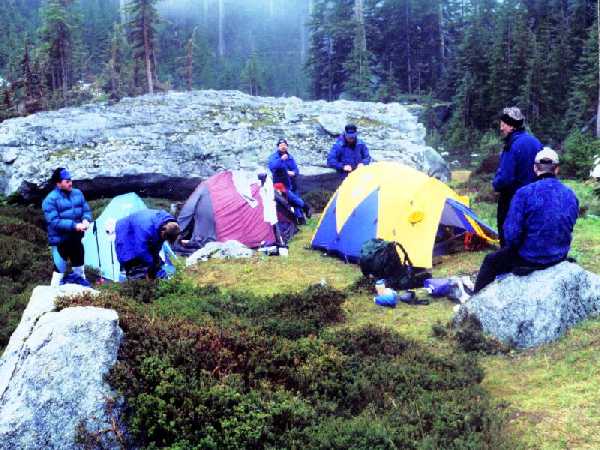 Heavy packs were hauled into Bedal Basin via a 3 mile trail amid misty skies and equally damp hopes of a summit. The Vulgarians packed in full rock gear with hopes of completing a west face ascent (Grade III, Class 5.4) that was nearly completed a year ago. The wet weather dictated a switch to the South Face / Corkscrew route which was completed by Way Too High members Bruce Kolpack and Dave Spencer a few years ago. (See "South Face and Upper West Face, Lower South Face Shelf Variation" in the green Beckey book)
By morning the weather had improved to the point where you could actually see the mountain that we were camped immediately beneath. As we started out, the weather started moving in. We proceeded up a steep coulior leading to the ridge that had to be crossed in order to gain the south face. At the ridge crest (about 6500 ft.) we were in a blizzard, and decided to retreat.
The hike out was wet and uneventful. The same storm caught 2 climbers on Mt. Baker that weekend. They were rescued 2 days later.