1996 Annual Persis Bivvy
The Mt. Persis bivvy climb took place March 23rd & 24th. It was cold weekend and it snowed much of the time the first day. We camped at the usual spot, just below the summit. As usual, an excellent bivvy site. Present were Bruce Kolpack, Mark Loftus, Paul Dunn, Glenn and Sandy Cirlincione.
At about 10:30 PM, the sky cleared revealing the incredible sight of Comet Hyakutake.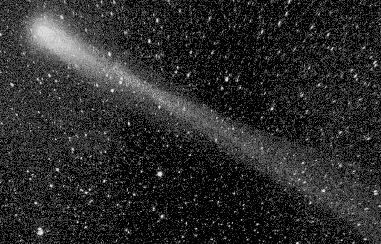 Says Glenn Cirlincione about the above photo, "Just the way I saw the comet...cool!"
We waited for the sun to take away the 15 degree morning chill. The jaunt up to the summit and back down to the trailhead was accomplish under beautiful sunny skies. The fresh snow glistened and the trees were snow-laden. All in all, a most excellent outing!