The Grand Mogul

9,733 Feet
Sawtooth Range
Idaho
August, 1999
This trip started out with a phone call from Terry. He was on the road -- in California on a business trip. Terry's business takes him throughout the Western U.S. as his company assimilates smaller companies, requiring him to get the MIS end of things coordinated.
Terry tends to run into climbers on these trips because he does things that other climbers do when he's on the road. Like hiking up the local training hill, or checking out the gear at the local climb shop.
This time he ran into a California climber who was raving about a climb he did in the Sawtooth Range of Idaho. It was the North Face Couloir of the Grand Mogul, a steep snow and ice climb that was supposedly destined to be a North American classic. That sounded pretty cool, and after making sure it wasn't over my head, I agreed to go. And it also seemed like it was just time to do something like this.
So that's how it started. And we actually wound up climbing the Grand Mogul, but it turned out to be circuitous route.
Back to the phone conversation... we compared schedules and came up with the dates of August 12 - 15. Now that the date was set, we booked cheap flights to Boise, and the detailed research began. A few days later, Terry placed a call to one of the local rangers. According to the ranger, the North Face Couloir route would be out of condition by mid-August. It seems that June is the time for that route due to melt-out later in the summer and a 5.10 chockstone.
Then we started throwing out alternative plans. One thought was to fly or drive to Jackson, Wy. and climb the Grand Teton. Another thought was to check out other Sawtooth climbs. We wound up flying to Boise on August 12 with a lot of gear and an open agenda. We were ready for anything and had four days to do something cool.
Our first obstacle was getting a car. For some reason, we failed to book a rental car. We arrived in Boise Thursday morning to find out that every rental car in Boise was booked. We tried every option that morning. Flying to Jackson would have cost way too much... lodging in Stanley, ID, at the foot of the Sawtooths, was totally booked... so we came to the realization that a night in Boise was in our immediate future.
We found a hotel in downtown Boise. In the late afternoon, we were able to rent a car. We found a book store with a climbing guide and a map, so we decided on a Sawtooth adventure. That night we had great food at an Italian restaurant and wound up at an open air wine bar in downtown Boise. Life was good.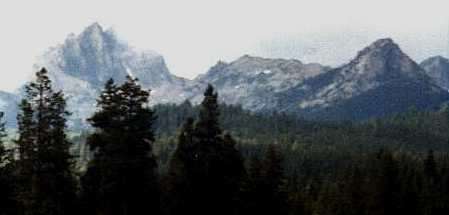 The only thing that could hose us now was weather. On Friday morning, we left Boise for Stanley, at the base of the Sawtooth Mountains. There were massive thunderstorms. We couldn't believe it. Compared to Seattle, this place was a desert and we were getting rained on. We didn't even bring a tent because we were so sure that a couple nights bivouac would be no big deal.
We arrived in Stanley after about three hours and stopped at the Ranger Station. After going through the guide book the night before, we thought that the Finger of Fate (5.7) would be a reasonable accomplishment. After talking the rangers, it seemed that the approach to the Finger was a bit long given the rainy conditions.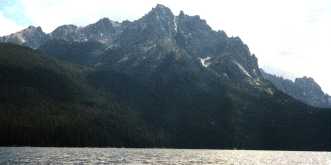 We finally came nearly full circle and decided to do the relatively easy Northeast Ridge route on the Grand Mogul. We visited the Redfish Lake Lodge, waited out a couple thunderstorms, then booked passage across the lake to the base of the Mogul.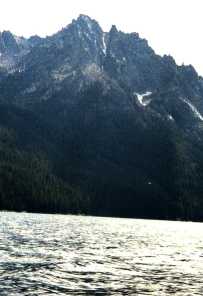 It actually hailed on us as we standing on the dock waiting for the boat. Fortunately, we stopped at a general store and bought a plastic tarp.
Then we got lucky. Even though the weather threatened us through the remainder of Friday, we didn't get wet for the rest of the weekend.
A ten minute speedboat trip across Redfish Lake dropped us off at the base of the Mogul. Our boat pilot was an interesting character. He was 20-something with a tongue stud whom we called Mr. 5.10. Upon hearing from the lodge desk that the boat guys were climbers, we hit him up for some beta on the Mogul. He told us that he didn't climb anything under 5.10, to which we said to ourselves, "Excuuuuse me, Mr. 5.10!"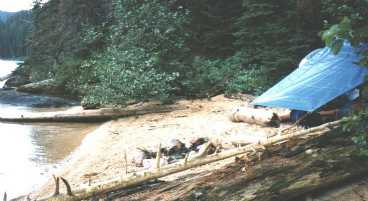 We circled a little ways around the lake from the trailhead and found a great spot to bivvy. It was very cool little site, and we were even able to build a little fire and roasted some summer sausage on a stick... a most excellent treat.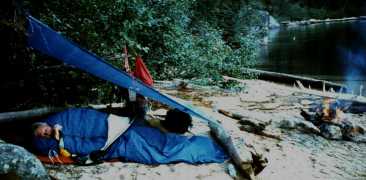 We awoke a first light on Saturday morning only to find ourselves engulfed in clouds. After slunking back into our bags for another half hour, we decided that it was only surface fog induced by the lake, so we got going. The fog quickly dissipated.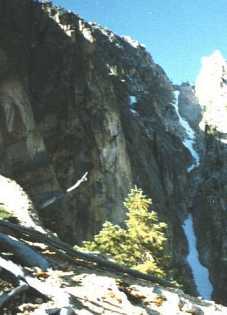 The first thousand feet was basically a bushwack. We ascended an avalanche slope choked full of debris and slide alder, then found a timbered ridge which we ascended until it broke out into scree and rock. One of our first views was of the North Face (seen in the photo to the right). It was quite obvious that the couloir was out of condition and the rock climbing around the chockstone looked pretty hairy. We were happy to be on the Northeast Ridge route.
As we neared the summit, the rock climbing was mostly Class 3, with maybe a little Class 4. The rope and our technical gear never left our backpacks.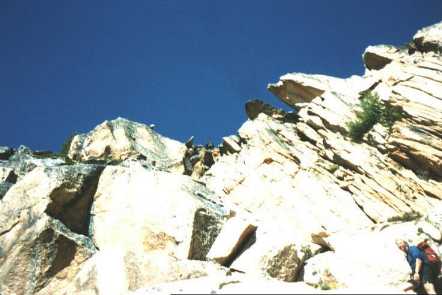 There was a summit register which revealed one or two ascents per month in the summer season.
The descent was fairly rapid with some interesting boot skiing on the granite scree which sometimes turned into part-rock which we called "scrock". We had to be careful and slow down (fighting gravity) during those scree to scrock transitions.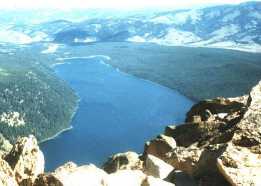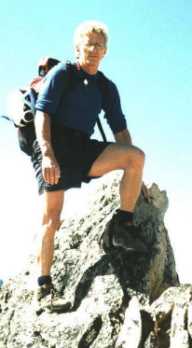 We got back to the bivvy site in the early afternoon and caught the boat (no Mr. 5.10 today) back to the lodge. We drove back to Boise in enough time (Terry drives FAST) to get a hotel and hit the wine bar for a couple of celebratory bottles.
On Sunday morning we caught an early flight back to Seattle.
This was an excellent trip.
---
The photo at the top of the page is used with the permission of Bob Bauer Photography