Denali '82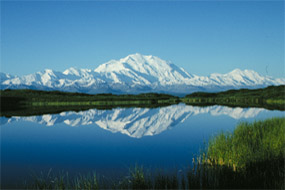 In June and July of 1982, Brad Canady, Rod Sly, and I climbed Mt. McKinley (known as "Denali" in native Athabascan) in Denali National Park, Alaska. This was my second attempt at the summit having fallen one day short in 1980 with a Boealps expedition due to a last minute evacuation of a party member stricken with high altitude cerebral edema. Armed with the logistical knowledge, I recruited my two friends for a repeat assault. We called ourselves The Way Too High Alpine Society.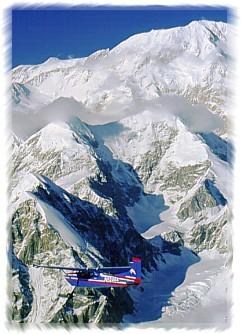 The trip started with a commercial flight to Anchorage where we hopped on the Alaska Railroad to Talkeetna. Talkeetna is the gathering point for expeditions to Denali and the home airport for numerous flight services offering access to glaciers just outside of the park boundaries.
We contracted with Talkeetna Air Taxi for a round trip to the Kahiltna Glacier. It was a memorable flight; especially as we shot through One Shot Gap with rock walls seemingly a few feet from either side of the wings.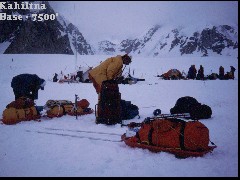 We arrived at Kahiltna Base on the Southeast Fork of the Kahiltna Glacier. This famous base camp was manned by Francis Randall, an eclectic older lady who coordinated flight activities in and out of the Denali base camp from April through July, and played violin in the Fairbanks Symphony Orchestra in the winter.
We put in three camps as we snowshoed up the 10 mile section of glacier carrying 40 pound packs and pulling 90 pound sleds. At 10,500', we cached the snowshoes and began ferrying loads to the higher camps at 12,500' and 14,300'.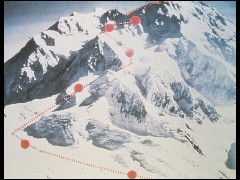 At the 12,500' camp, just below Windy Corner, we got hit by our first storm. We stayed up all night shoveling snow to keep our tent from getting buried. We were beginning to realize the value of snow caves.
The camp at 14,300' in the Western Cwm was kind of a party atmosphere. This is the spot were all the teams rest, reorganize, and wait for the weather window needed for the final assault. Our plan (based on my previous experience with the Boealps) was to place our final two camps at 16,300' and 17,400' (known as the Crow's Nest).
The climb from the Cwm to the crest of the West Buttress is know as The Headwall. It's quite steep and guide services fix ropes for their clients each year. These ropes were also available for independent groups like us. Our camp at 16,300' was airy and spectacular. It was also very exposed.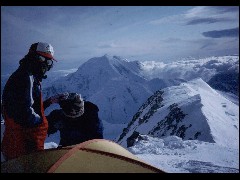 That night we were hit by the second, and worst storm of our trip. We were up all night just trying to keep the tent from blowing away, fully dressed and ready to bail at a moments notice. This was the only point in the climb were mortality was a real concern. The sun finally hit and we broke camp, still in gale force winds. It was then that we noticed that Rod's backpack, anchored down by our shovel, had blown away (along with the shovel). We also lost a tent pole, but fortunately had a spare. Not wanting to retreat, we packed up and tried climbing the ridge towards the Crow's Nest. However, the strong winds simply prevented us from climbing uphill. So we headed back down to 14,300'.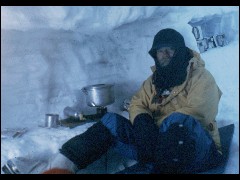 We hung out at 14,300' for a couple days, regrouping and planning our next steps. Brief thoughts of going home were quickly banished thanks in large part to Brad's summit drive. Due to our bad tent experience, we stayed in snow caves and igloos for most of the remainder of time at high altitude. We decided that the best plan was to move from 14,300' directly to 17,400' and traveling as light as possible. We had heard that there were some snow caves up there, so we gambled and left the tent behind.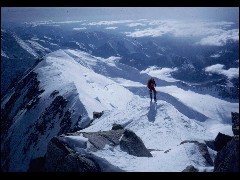 When it looked like we had a weather window, we headed back up the headwall. Rod used my duffel bag for a backpack since his pack was at the bottom of some Peters Glacier crevasse. The ridge walk up the buttress was knife-edged for about a mile and 1000 vertical - very cool. When we got to the Crow's Nest, we found that the snow cave pickings were pretty slim. We found a claustrophobic cave too small to sit up in, but it worked. First we had to shovel out a few turds since some people obviously thought our home-away-from-home was a latrine. After a cramped dinner and night's sleep, we got up and headed out for the summit.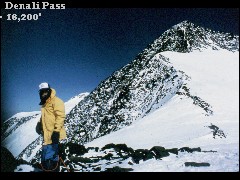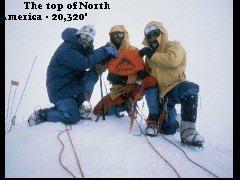 We made very good time as we made the traverse to Denali Pass and turned right towards Archdeacon's Tower, the Football Field, and the Summit Ridge. As we approached the Summit Ridge, the clouds moved in and we found ourselves in virtual whiteout conditions. We dropped our packs and made a mad dash for the summit. After spending a few minutes on top taking pictures and toasting our success, we hightailed it back to camp. We made the summit on July 8th, our 18th day on the mountain.
It took us only two days to get back to Kahiltna Base as we were quite motivated to get home. As luck would have it, the weather below was not allowing the bush pilots to get to the glacier. We hung out at Kahiltna Base for five days waiting for our plane.
The plane finally arrived, we said our goodbyes to Francis, and escaped the confines of Denali. As we approached the lowlands, the green color of the foliage was especially striking. It was then that we realized how acclimated we had become the black-and-white world of rock and snow over the last 25 days.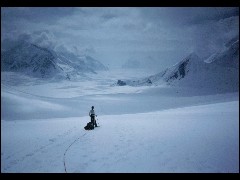 The first order of business in Talkeetna was a hot shower. This was followed by a cold beer, then another, and another, etc. The memory of the train ride back to Anchorage that night is pretty foggy.
The slideshow below requires that scripts are enabled on your browser. It lasts about 10 minutes.
Free JavaScripts provided
by The JavaScript Source